CATEGORY
Filter By

Price ( $ )

SET
Men's Jewelry
Sort by:
Recommended
0 Styles
Sorry, no results matched your search request.

Suggestions:
1, Make sure all words are spelled correctly.
2, Reduce filter condition for more results.
3, Adjust the price range.
4, Try other keywords.
Jewelry is not just for women. Through men's jewelry, people present their style, achievement as well as spirit. They can reflect mens life style through different materials accordingly. Bear you try one piece on Rosegal, styles depend on you! One significant piece is men's rings. On Rosegal, artificial gem engraved ring and detachable cross ring are good ones to choose. What about the sizes? Do not worry, Rosegal posts the size on the item page, number 7 means the diameter of the ring is 17mm, number 9 is 19mm. One more important piece is men's necklaces. Different necklaces fits different occasions. For example, a punk pendant necklace can be used on a rock music concert to show a rocker's attitude. A crucifix pendant style can be worn on a church and even in daily life to show the religion. In Rosegal, mens bracelets takes a remarkable part, which committed to selling best bracelets for guys. We can see two kinds of bracelets on the website, they are beads, leather or the mixed. With the basis of the styles, designers add more chic elements on them, such as barbell, flag style or beaded layers with leather. More functional, we have 5 in 1 outdoor survival bracelets. men's jewelry belongs to every one who wants to add something chic and meaningful on clothing---They are mirrors of someone's impression. In Rosegal attempts to make a better "You" happen!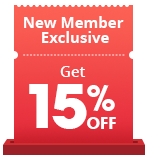 Complete your order
item(s)
Waiting for payment
0 days 00: 00: 00
Hurry! Before these items sold out!