CATEGORY
Filter By

Price ( $ )

SET

Material
T-Shirts
Sort by:
Recommended
0 Styles
Sorry, no results matched your search request.

Suggestions:
1, Make sure all words are spelled correctly.
2, Reduce filter condition for more results.
3, Adjust the price range.
4, Try other keywords.
T-shirts definitely go with everything! Make your fashion game strong with Rosegal's collection of trendy tees in the hottest sale styles. Go nautical with a striped t-shirt and pair it with khaki pants. Channel the free-spirit vibe with a unique tie dye piece that screams "summer"! Go preppy with plaid, and keep warm during chilly days with a long-sleeve shirt. For days you're feeling trendy, go with an off-shoulder t-shirt that you can jazz up with accessories. For lazy days, look effortlessly cool with everyone's classic must-have – the plain white t-shirt or black t-shirt! Don't you think it was about time to open those old packages and unfold your favorite graphic t-shirt that you held dear for so close? Band logos, slogans, quotes basically everything that can be written and printed out in these type of printed t-shirts, will be considered trendy and chic this year. In Rosegal, the best of shopping t-shirt online is you can find any funny t-shits at really good prices and you can combine them with almost everything available in your closet. We have superhero t-shirts like batman t-shirts and superman t-shirts to make your super dream come true. Do not think plus size t-shirts are just for plus size ladies. It is a must-have for every fashionista! Oversized t-shirt can be wore as boyfriend t-shirt and shirt dress. You can simply put on a pair of hot short and boots. Of course, if your long t-shirt is long enough, you can slip on a pair of shoes and ready to go. Your slender legs are here to stay. T-shirts are versatile that they can be basics and fashion statements as well. Refresh your everyday essential with our latest collection of women's T-shirts!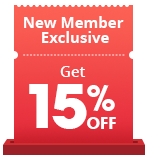 Complete your order
item(s)
Waiting for payment
0 days 00: 00: 00
Hurry! Before these items sold out!