CATEGORY
Filter By

Color

Price ( $ )

SET
Synthetic Wigs
Sort by:
Recommended
0 Styles
Sorry, no results matched your search request.

Suggestions:
1, Make sure all words are spelled correctly.
2, Reduce filter condition for more results.
3, Adjust the price range.
4, Try other keywords.
Synthetic lace front wigs and synthetic full lace wigs are the hair fashion trend of the season! And that's because the synthetic wigs are just awesome! With our cheap synthetic wigs, you can play around with different looks every day and change your image in seconds without damage our altering your natural hair. For example, long colorful ombre synthetic lace front wigs are ideal for creating electrical cosplay looks, or if you prefer a most natural look, you can choose from all our great selections and styles of synthetic lace front wigs and full lace synthetic wigs. Go from long to short hair styles with a sophisticated synthetic lace front bob wig or from short to long with a long straight hair synthetic lace front wig. You can recreate some of your favorite red carpet or magazine cover celebrities styles with a synthetic lace front wigs with bangs or go for a more romantic style with synthetic curly lace wigs. In Rosegal we have too a great selection of synthetic African American wigs with which you can nail your everyday look with gorgeous afro styles, soft curls or pretty straight short, medium or long hairstyles. Or if you prefer you can get some instant glam with all of the great models of synthetic half wigs. With our best synthetic lace front wigs, you can express yourself with your daily looks and show your versatility with attractive, fashionable, chic, contemporary, Avant-garde or classic hairstyles without risk your natural hair or wasting hours styling it. With Rosegal inventory of cheap synthetic wigs, you don't have to invest thousands for reinventing yourself and express your sense of fashion and style. Our synthetic lace wigs are carefully elaborated with high quality fibers, always guaranteeing you a natural look and smooth feel. So what are you waiting? Get now your favorite synthetic lace wigs!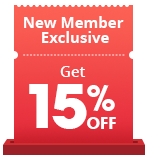 Complete your order
item(s)
Waiting for payment
0 days 00: 00: 00
Hurry! Before these items sold out!