CATEGORY
Filter By

Color

Price ( $ )

SET
Sunglasses
Sort by:
Recommended
0 Styles
Sorry, no results matched your search request.

Suggestions:
1, Make sure all words are spelled correctly.
2, Reduce filter condition for more results.
3, Adjust the price range.
4, Try other keywords.
Sunglasses are a simple yet effective approach to enhance a casual look. Rosegal presents the most stylish collection of sunglasses, going from round sunglasses to contrast a thin face to pilot sunglasses to add a spice of exquisiteness to your eyes. Amongst our large list of options, our black sunglasses match the perfect color to keep the sun away and portray a killer serious look. We´re not all about seriousness, so we´ve put up the most chic gold embellished ombre sunglasses in a delicate silver, red or an ice blue.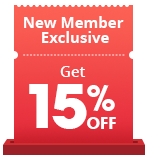 Complete your order
item(s)
Waiting for payment
0 days 00: 00: 00
Hurry! Before these items sold out!