CATEGORY
Filter By

Price ( $ )

SET
Sports Bra
Sort by:
Recommended
0 Styles
Sorry, no results matched your search request.

Suggestions:
1, Make sure all words are spelled correctly.
2, Reduce filter condition for more results.
3, Adjust the price range.
4, Try other keywords.
What's your sports look when it's time to get active? Get fit and look your best in the latest Rosegal sports bras that keep everything in place while you work a sweat. The reason why we use sports bra is to protect our breasts from hurt when exercising. Once our breasts get hurt, it is almost irreversible. The best sports bra has not only high ventilation that normal bra not equipped, but also has different designed structure preventing irritation and reducing breasts shaking strongly. Different activities require different levels of support. For those lady with cup A and B, most of the strappy sports bras are suitable. With sports like running, tennis, horse riding, or aerobics, higher support sports bra is needed. We also provide the high impact sports bra for those have plump breast or doing high intensity sports. Generally speaking, padded sports bra can help you have a smooth upper body rather than showing nipple protrusion embarrassingly. Performance meets push up sports bra that provide comfortable and lift. Of course, we have plus size sports bras for curly ladies to pick. It is important to check out our size chart for each pattern of front zip sports bra, because fitness and size really matter. With sports bra, we can focus on our workout. With Rosegal's sports bra, we can focus on our workout and remain fashion as well.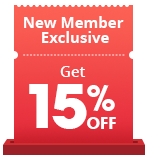 Complete your order
item(s)
Waiting for payment
0 days 00: 00: 00
Hurry! Before these items sold out!