CATEGORY
Filter By

Price ( $ )

SET

Material
Socks
Sort by:
Low price
0 Styles
Sorry, no results matched your search request.

Suggestions:
1, Make sure all words are spelled correctly.
2, Reduce filter condition for more results.
3, Adjust the price range.
4, Try other keywords.
What's warm and fluffy? A great pair of comfortable casual socks! No matter what gender or age you are, socks are definitely a wardrobe essential since you can never run out of socks. Check out Rosegal's huge selection of socks including knitted stockings and knitted boot cuffs, which are suitable for all sorts of occasions. Want to get into the festive mood? Why not buy some Christmas socks for your family and friends? Stay warm and happy!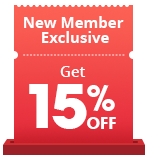 Complete your order
item(s)
Waiting for payment
0 days 00: 00: 00
Hurry! Before these items sold out!