CATEGORY
Filter By

Color

Price ( $ )

SET
Rings
Sort by:
Recommended
0 Styles
Sorry, no results matched your search request.

Suggestions:
1, Make sure all words are spelled correctly.
2, Reduce filter condition for more results.
3, Adjust the price range.
4, Try other keywords.
Who doesn't crave for a set of belly rings to couple with all those party dresses resting in the wardrobe? Rare to find elsewhere, Rosegal entertains an entire section of jewelry rings in all shapes and designs that are bound to catch the eye. When choosing your statement jewelry, you can opt for simple and graceful, or all out glam. No matter what style you choose, their is something to match your wardrobe this season: rose gold rings. Choose a gold ring, and brighten up your life. Perfect for any occasion, womens rings are worn for a variety of reasons, from simply adding a stylish accessory to symbolizing a life-long commitment. A opal ring is the most symbolic piece of jewelry, especially with its ties to love, commitment and marriage. Don't forget to pick couple rings to get the most perfect match. Fashion rings come in all different types of precious metals, styles and designs, making them the ideal accessory and the perfect gift for anyone. With our sweet selection of rings for girls, release your inner girl next door and enjoy this youthful look. Many mistakenly think that ruby rings, gemstone rings and amethyst rings can only be worn on grand occasions. In fact, the glamour of the banquet can be part of your casual day wardrobe. Minimalistic, silver rings and rose gold rings add a delicate feel to any look. If you are a punk lover, skull rings and belly botton rings are must-have for you. Vintage rings are not only suitable for you 90s look, but also fit for your boho style. Take your leisurely pick from our abundant store on rings for women to suit better for yourself – they are composed in strong material and fetching designs to keep up with your every style.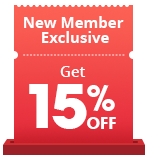 Complete your order
item(s)
Waiting for payment
0 days 00: 00: 00
Hurry! Before these items sold out!