CATEGORY
Filter By

Price ( $ )

SET

Strap Type
Plus Size Intimates
Sort By:
Recommended
0 Styles
Sorry, no results matched your search request.

Suggestions:
1, Make sure all words are spelled correctly.
2, Reduce filter condition for more results.
3, Adjust the price range.
4, Try other keywords.
Choosing the right plus size lingerie is an important decision that will affect your daily outfits, because the insight will always reflect the outside. At the time to buy them you should go for the styles that make you feel comfortable, sexy and feminine; but at the same time provided you good covering, support and fit. The right size and material is the key for a successful purchase of plus size intimates. For example, buying a small size can cause bulging fats from all the wrong places, but if you buy a bigger size than yours, it only will make you look larger than your real size. Take the time for measure your body so you can choose the right size for you! The best plus size bras are those that can provide you good support and at the same time makes you feel comfortable and sexy! Whenever you go with a sports or a push up bra, always pay attention that the cups of the bra you choose fits you well and are not too tight or big. If you're looking for special inner wear that fit just right, we have the perfect items for you. Take a gander at our offerings. They are available in lace panel and push up style for the classic look, and we also offer them in see through & mesh style if you want to go for a cooler and edgier appeal.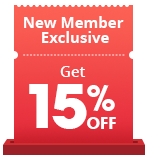 Complete your order
item(s)
Waiting for payment
0 days 00: 00: 00
Hurry! Before these items sold out!