CATEGORY
Filter By

Price ( $ )

SET

Neckline
PLUS SIZE
Sort By:
Recommended
0 Styles
Sorry, no results matched your search request.

Suggestions:
1, Make sure all words are spelled correctly.
2, Reduce filter condition for more results.
3, Adjust the price range.
4, Try other keywords.
What's Plus size clothing? Plus size clothing is clothing proportioned specifically for people whose bodies are larger than the average person's. The application of the term varies from country to country, and according to which industry the person is involved in.In the fashion industry, plus size is identified as sizes 18 and over, or sizes 1X-6X and extended size as 7X and up. Plus sizes are sizes 14W - 24W. Super sizes and extended sizes are used interchangeably for sizes 26W and above. Sometimes the size 26W is included in plus size. How to Choose Plus Size Clothing That Flatter? First, create a corset by drawing in the smallest place in your body. Then, the skirt part should flow out from the waist or create a waist. Finally, emphasize your assets. Special Things About Plus Size Clothing on Rosegal When it comes to apparel sales, big is beautiful. To fuel growth, the fashion world is increasingly counting on plus-size customers, a demographic that it has long ignored. If you are a bit fat, then you find it a bit tough to get the stylish and sexy plus size dresses to bolster your looks which make you to look a bit inferior. To solve your problem, we offer plus size dresses for different occasions such as parties, swimming and for night wearing purpose. Our range of plus size dresses is also one of the most affordable ones so that you do not have to spend heavily for looking beautiful and elegant.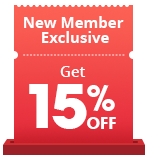 Complete your order
item(s)
Waiting for payment
0 days 00: 00: 00
Hurry! Before these items sold out!