CATEGORY
Filter By

Size

Price ( $ )

SET
Shirts
Sort by:
Recommended
0 Styles
Sorry, no results matched your search request.

Suggestions:
1, Make sure all words are spelled correctly.
2, Reduce filter condition for more results.
3, Adjust the price range.
4, Try other keywords.
Mens Shirts Shirts are another essential piece of clothes that every man should have in their wardrobe. Mens shirts are perfect for a casual look and dress shirts for men works good for a most formal occasion, like go to the office, business meetings, an important interview or for a special dinner with your crush. But if you like to look stylish, dress shirts combined with a pair of jeans can give you a smart look! Button up shirts and button down shirts are everything but boring. You can find so many styles, partners, and colors that sometimes is hard to choose which one to wear. In the other hand, white shirts are the most versatile of all; every man needs one, they are the essential of essentials of men shirts, and for sure you can never go wrong with them! Mens denim shirts are trendy this season; you can wear them for break up an all-black outfit, Double down on denim, or nail it with a pair or khaki pants! Mens plaid shirts are the safest option to go with, but if you want to try something different and adventurous you can give a try to the mens floral shirts, well paired they can look awesome for a summer tropical outfit, or they can be layered for a more formal occasion and still look great! In Rosegal we can help you to nail the shirt look with all our new and trendy designs. We have shirts for all your needs: button down shirts, dress shirts for men, short sleeves shirts, black button up shirt, casual shirts and of course white shirt for men. On our site we have the best shirts with the lower prices, so you don't need to spend too much for look awesome! Take a look at our mens shirts collection and find your favorites ones!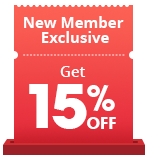 Complete your order
item(s)
Waiting for payment
0 days 00: 00: 00
Hurry! Before these items sold out!