CATEGORY
Filter By

Price ( $ )

SET

Closure Type
Coats
Sort by:
Recommended
0 Styles
Sorry, no results matched your search request.

Suggestions:
1, Make sure all words are spelled correctly.
2, Reduce filter condition for more results.
3, Adjust the price range.
4, Try other keywords.
coats When the cool of winter arrives is time for changing your light jackets into coats for a warm. A good outerwear should be a timeless garment that you can wear during different seasons regarding the trends. Trench coats are a great option to go with it because they keep you warm and dry at and the same time add lots of sophistication to your everyday looks. This winter garment has its origins in the army and is a classy wardrobe staple as well. Because it's V-neck design, it works goods flattering your shape and is easy to match. Mens parka coats can look great with jogger pants as well that with jeans. They are super comfortable, some of its advantages are that some styles are made with waterproof materials, making them super practical.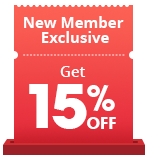 Complete your order
item(s)
Waiting for payment
0 days 00: 00: 00
Hurry! Before these items sold out!