CATEGORY
Filter By

Color

Price ( $ )

SET
Keyring
Sort by:
Recommended
0 Styles
Sorry, no results matched your search request.

Suggestions:
1, Make sure all words are spelled correctly.
2, Reduce filter condition for more results.
3, Adjust the price range.
4, Try other keywords.
Do you believe accessories will cheer you up, those looks like different than they suppose to be? Yes. It is really magical with the keychain accessories on Rosegal. Let's take the advantage of key rings that can get life fun. Keychains for girls on Rosegal are designed much more adorable, such as these styles: cute, tassel, fur, fluffy and so forth. Women's key chains are more likely to be considered as new and interesting. A rabbit pendant or ballerina fuzzy ball keyring is cool enough to blast in the crowd. Mens keychains are apt to be designed more functionally. You can not imagine how fun it would be: A bottle opener keychain can erase the awkwardness in a party where everyone needs a bottle opener urgently, you could be a coolest. Fun key chains bang the drab and highlight the routine. Affordable and ingenious, our key rings will surely be in a shopping list. Welcome to have a look and check out in Rosegal. We believe there will be a wider range posted on the website for you to explore. Please feel free to shop what you like!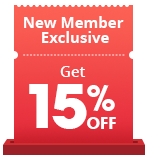 Complete your order
item(s)
Waiting for payment
0 days 00: 00: 00
Hurry! Before these items sold out!