CATEGORY
Filter By

Price ( $ )

SET

Material
Jackets
Sort by:
Recommended
0 Styles
Sorry, no results matched your search request.

Suggestions:
1, Make sure all words are spelled correctly.
2, Reduce filter condition for more results.
3, Adjust the price range.
4, Try other keywords.
Without any doubt coats and jackets are a must have in every women wardrobe. Regarding your location, nothing better for protecting you from the cold chills. They are many styles of women's jackets in different material and designs that can work correctly for protecting you from the rain, the wind, and the snow and at the same time bring a fashionable touch to your daily outfits. Lately, bomber jackets are super trendy! It's beginnings as an army garment can offer you warm, comfort and lots of style. It's can be super functional, and you can always wear them well from sporty outfits to chic urban looks! Denim jackets are another great option that can help you to give a stylish twist to your outfits! They work perfectly for layering whenever with a cardigan, a cute top, hoodies, or a dress. In Rosegal we have varieties style of jackets, design with pu leather, biker or motorcycle style, zip up, asymmetrical and more! Take a look at our website now and find your favorite ones!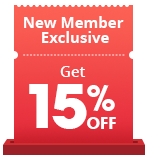 Complete your order
item(s)
Waiting for payment
0 days 00: 00: 00
Hurry! Before these items sold out!