CATEGORY
Filter By

Color

Price ( $ )

SET
Gym Tops
Sort by:
Recommended
0 Styles
Sorry, no results matched your search request.

Suggestions:
1, Make sure all words are spelled correctly.
2, Reduce filter condition for more results.
3, Adjust the price range.
4, Try other keywords.
Behind are those days when going to the gym implies to wear oversized t-shirts and boxy plaid shirts. Today they are many comfortable, fashionable and functional workout clothes that can motivate you to achieve all your workout goals! The right activewear can assure you to do the most of your exercise and make a big difference in your performance, while using the wrong kind of clothes can make you feel more tired, painful and demotivated. A successful workout starts from your undergarments. So choose a good sports bra is a fundamental decision, wear a bra that doesn't provide you enough support can cause you breast pain and in some cases tissue damage. Women's sports bra comes in different styles and materials regarding the kind of physical activity you will perform. Those for high-impact activities as running have a design that provides you more support, like the padded sports bra, while those for low impact activities as yoga, jogging, and biking are less constrictive like yoga bra with criss-cross or racerback. Sport tank tops normally are racerback, assuring you excellent support and flexibility. Sport shirts are another good option to go with; they can offer you a good fit and covering. The materials can be different; right now mesh inserts are super trendy because the mesh is a great light weight material that will keep you fresh during the exercise. In Rosegal we are always having new arrivals of gym tops like: workout tanks & shirts, running shirts and so on! Take a look at our site now and find your favorite ones!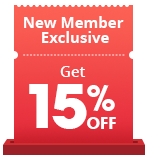 Complete your order
item(s)
Waiting for payment
0 days 00: 00: 00
Hurry! Before these items sold out!