CATEGORY
Filter By

Color

Price ( $ )

SET
Corset & Bustiers
Sort by:
Low price
0 Styles
Sorry, no results matched your search request.

Suggestions:
1, Make sure all words are spelled correctly.
2, Reduce filter condition for more results.
3, Adjust the price range.
4, Try other keywords.
A few centuries ago, the height of European fashion was the women corset, the tighter the better to give you a glamorously thin waist, regardless of the affects on health. Now we have new fashion trends that can give us the look of a corset lingerie and tiny waist without all the hard work. Many bride-to-be pick the our white corset and lace up corset as their wedding corset adding some uniqueness. Corset dresses are designed to give you the sexy look while remaining an extra feminine flair. Some steam punk corset like black corset, black corset top and red corset brings you back to the 90s. Speaking of corset, we always mention another hot item: bustier. And many women easily confuse the two style of garments. Actually, there are some differences between waist cincher corsets and bustiers. Corsets normally shape the rorso by reducing the size of the waist; and that is why we always have steel boned corset, which can bend in one direction to provide the maximum support. And corset training for a slimmer body. While bustiers concentrate on providing lift to the breast and hugging the natural contour of women's body. The fabric of these two garments are always different as well. We can see many leather corsets and latex corsets. They should be made from several layers. On the other hand, bustiers are frequently made of lace and silk, which is lightweight and flexible. Actually, except from wearing them inside the clothes, we can wear the corset belt outside. Every girl's wardrobe has a t-shirt or shirt, so spice up your look by adding a lace up corset or a waist corset this season. Give your top an edge with a cinched in waist. Pairing a high neck top inside your underbust corset can create a whole new look that is catwalk ready. Embrace your inner super women and try corset and bustier this season.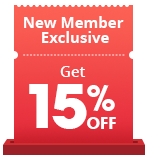 Complete your order
item(s)
Waiting for payment
0 days 00: 00: 00
Hurry! Before these items sold out!