CATEGORY
Filter By

Price ( $ )

SET

Pattern Type
Coats
Sort by:
High price
0 Styles
Sorry, no results matched your search request.

Suggestions:
1, Make sure all words are spelled correctly.
2, Reduce filter condition for more results.
3, Adjust the price range.
4, Try other keywords.
When winter and fall arrive, we know is time for put on a parka coats that protects us from the cold and at the same time make us look fabulous and stylish. So comfort, warm, fit and style are some of the important considerations that you may need to have when you are going to buy one. Go with timeless winter coats for women styles can be a great alternative because you will be able to wear them many times and in different occasion and they will make always look chic. One good example of a classical design is a trench style, their design is super versatile, and they can always add a touch of sophistication to almost any outfit, whenever you wear a dress, jeans, black pants or a pencil skirt. If we talk about durability, leather is another fashionable option to go. Pea coats are another classical that can give to your outfit a nice vintage vibe and are super warm and cozy, a camel coat is elegant, chic, sophisticated and super easy to style for formal or casual looks. In Rosegal we have a huge collection of the best winter coats! Take a look at our website now and fall in love with your favorite ones!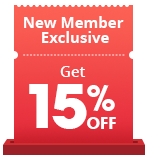 Complete your order
item(s)
Waiting for payment
0 days 00: 00: 00
Hurry! Before these items sold out!