Jewelry & Accessories
Sort by:
Recommended
0 Styles
Sorry, no results matched your search request.

Suggestions:
1, Make sure all words are spelled correctly.
2, Reduce filter condition for more results.
3, Adjust the price range.
4, Try other keywords.
Add a dash of glam to your holiday ensemble with Rosegal's stunning selection of Christmas accessories. Gotta love the trendy choker necklaces, now in snowflake designs! Get match with your man and get him a snowflake bow tie while you're at it! When it comes to baubles, we just got to have them all. Fill your jewelry box with sparkling snowman or Christmas tree earrings. We've also got fancy brooches to adorn your pretty dresses with. If you want to go for cutesy basics, we have Christmas socks, too! These trinkets are sure to delight!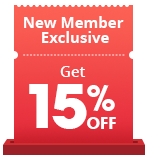 Complete your order
item(s)
Waiting for payment
0 days 00: 00: 00
Hurry! Before these items sold out!