CATEGORY
Filter By

Price ( $ )

SET
Blazer
Sort by:
Recommended
0 Styles
Sorry, no results matched your search request.

Suggestions:
1, Make sure all words are spelled correctly.
2, Reduce filter condition for more results.
3, Adjust the price range.
4, Try other keywords.
Blazer for women is a super versatile clothes staple that every girl should own. They can help you to switch from a casual to a casual chic outfit immediately and to achieve fashionable outfits almost effortlessly, it can be wear for go to work, formal occasions, casual outings or for a night out outfit, all depends on the color, the design, and how you match them. In summer you can rock a professional look with tailored shorts, a plain color blouse and a white blazer, and in fall you can wear it with a pair of tailored trousers instead of short pants. They can be stylish perfectly an office or casual outfit from winter to summer! You can always style well a pretty red blazer, besides be super chic, it can bring color to your look. In spring you can always match a cute dress with a pink or a floral blazer looks perfect with a pair of skinny white pants and a black cami top underneath. In Rosegal we have varieties style of blazer, like black & blue color, casual, royal , striped, denim fabric and so on! Take a look at our website now and find your favorite ones!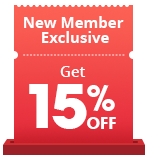 Complete your order
item(s)
Waiting for payment
0 days 00: 00: 00
Hurry! Before these items sold out!